Bring Kindermusik to your preschool! 

Kindermusik for preschools fosters whole-child development and increases school readiness while sharing the joy and power of music-making.


Miss Deb, Director of Music4Kids, is a licensed Kindermusik teacher who also holds a Master of Arts in Music Education.  She is available to teach Kindermusik for ages 3-6 at your preschool  in 3 levels of the Kindermusik curriculum. 

Kindermusik Level 2: (3 year olds):  Level 2 encourages children's natural love of the rhythms and patterns that are the foundation of language, math, and music skills. Vocal play activities such as call and response teach musical
skills as well as expressive language development. Instrument
exploration, creative movement, and learning to take
turns help build inhibitory control and other important preschool skills.


Kindermusik Level 3 (3-4 year olds): Level 3 pairs music with pretend play to make the most of preschoolers' brilliant  imaginations.  The rhythm patterns we use are more complex and I add additional instruments to take advantage of more developed fine motor skills and to give the children new experiences – they get excited when I bring out new instruments they didn't use the year before.

Kindermusik Level 4 (4.5-6 year olds):  The Level 4 classroom curriculum introduces children to more sophisticated music concepts in a clear and accessible way, setting the stage for formal music instruction. In these lessons, children listen to and imitate different rhythm patterns as they experiment with more advanced instruments like the guiro and glockenspiel. They build pre-literacy skills as they explore basic music notation, tempo, pitch, and timbre through listening activities. Terms like glissando, crescendo, staccato, and legato are brought to life through song and instrument play, while dances and movement activities build physical coordination. During storytime, children hone their attentive listening skills with engaging books on topics that include learning about musical instruments, exploring humor and joke-telling, and an introduction to some influential composers and their work.
Example Lesson Plan at a Glance: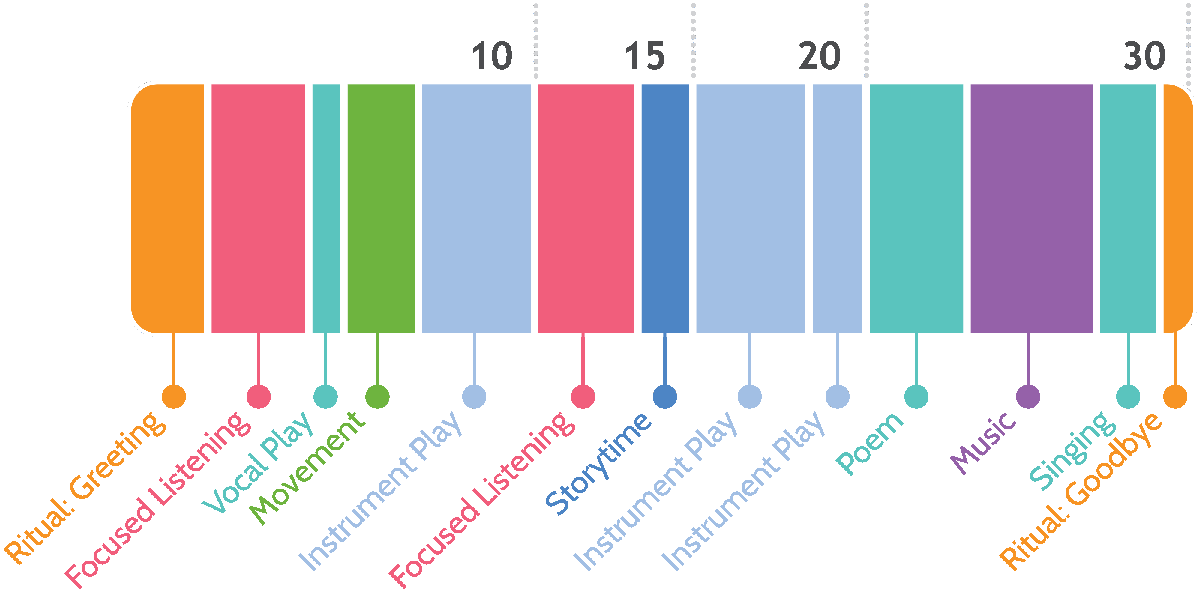 Each level of the curriculum is theme-based, which a new theme each month.  From year to year many of the songs appear again with new activities appropriate for the more advanced abilities at each age level.  Themes include names such as "Jumping Beans," (Latin American music & culture), "In My Garden," "Outside My Window" (seasons & weather), "Drums, Drums, Drums," "Beach Days," etc.
Kindermusik believes—and research supports—that the level of family involvement in a child's early education is a strong predictor of later school success. As such, we include a powerful home connection piece for every unit of every level of our curricula, to encourage family engagement and extend learning from school to home and back again.
These materials may also be used by the teacher to bring the music and thematic learning into the classroom throughout the week.
Materials provided for each family and each teacher every month include:
CD including all the music used in class

Printable lyrics, stories, learning games, and activities

Weekly Parent Handout with related home activity suggestions (Available in English, Spanish, Portuguese, and Simplified Chinese)

Online streaming of favorite songs from class

Online Musical eBooks

Online Interactive learning games, videos, field trips, and activities
Kindermusik has helped my students find pure joy in music. The curriculum is extraordinary, developmentally appropriate ,engaging, and fun. The program is an essential part of their experience at school. The program has beautifully enhanced the students social experience, movement, and music in a fun and nurturing environment.
Kindermusik has served to "jump start" early literacy and numeracy skill development for these children. The music and movement are irresistible and compelling. Children who were previously unavailable for social interaction and learning readily engage and are soon leading their peers in the routines of the program.
I would love to work with you to design a Kindermusik program for your school.  To request more information, please email me at missdeb@music4kids.com